Do you Need a Global Food Safety Initiative (GFSI) Benchmarked Certification to Sell Your Product?
Do you Need a Global Food Safety Initiative (GFSI) Benchmarked Certification to Sell Your Product?
Have you attempted to get your food product or food packaging product into a major national retailer, such as, Costco, Walmart, or Trader Joe's and you were told that you need a Global Food Safety Initiative (GFSI) benchmarked food safety certification (Safe Quality Food (SQF), BRCGS, FSSC 22000, PrimusGFS), Good Manufacturing Practices (GMP) certification, or Good Distribution Practices (GDP) certification to be able to sell your product?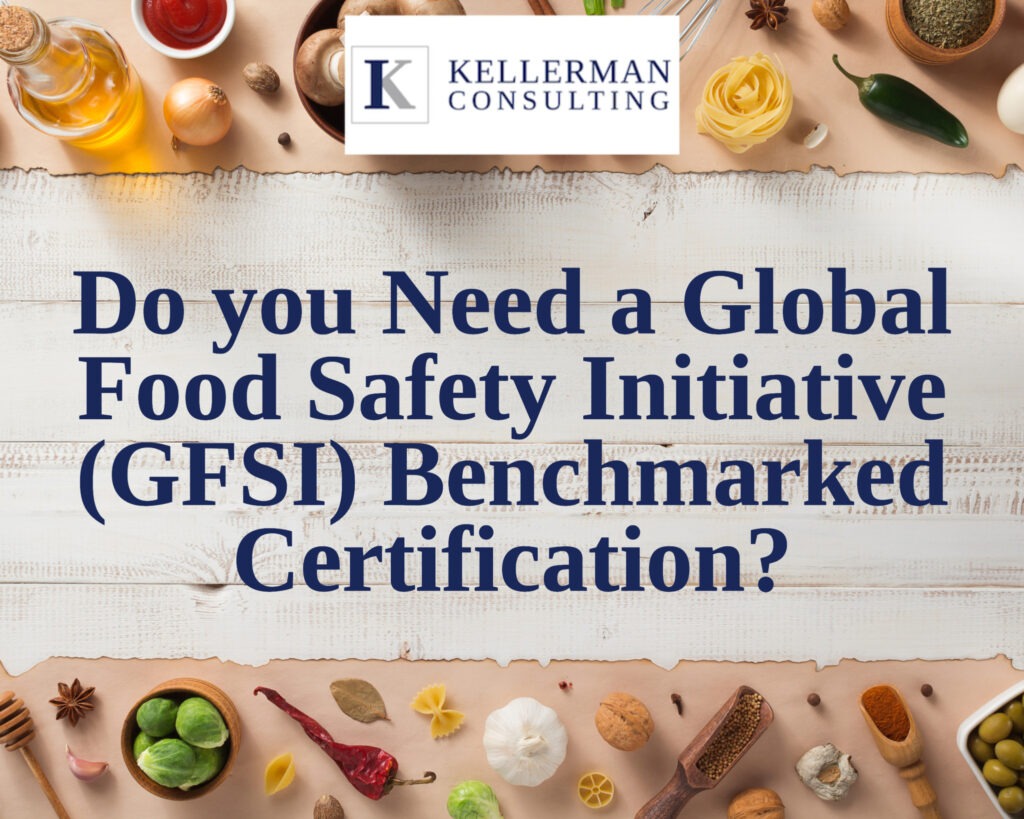 If you are a food manufacturer, food storage and distribution company, food broker, food grower, food packaging manufacturer, dietary supplement manufacturer or beverage manufacturer, you might not yet have encountered requests for these voluntary certifications, but as you grow your business, you may need to consider getting a GFSI-recognized certification to stay competitive.
What is the Difference Between Food Safety Compliance, GMP certification, GDP Certification, or GFSI-recognized certification?
Food Safety Regulatory compliance, Good Manufacturing Practices (GMP)/HACCP audits, Good Distribution Practices (GDP) audits may only buy you a limited amount of time until the GFSI benchmarked certification requirement is demanded of you.
1. Compliant With Federal, State And Local Food Safety Laws
The first step prior to certification is becoming compliant with the US food safety laws (either FDA or USDA). These laws are classified as mandatory. You must have this foundation of food safety before attempting to acquire GMP certification, GDP certification or GFSI benchmarked certification.
2. Going Through a Third Party Audit such as GMP or GDP
In order to pass a GMP or GDP audit, you will need more records and more standard operating procedures than are required by law. However, the number of rules and the rigor of the rules is less than what is expected of you in order to meet the GFSI standard. This means GMP and GDP certifications are increasingly becoming obsolete because they are not considered rigorous enough food safety standards for many of the global retailers.
3. GFSI Benchmarked Certification
The third level of certification is GFSI – the highest level of food safety third party audit currently available in the food industry. These include SQF, BRCGS, FSSC 22000 and PrimusGFS.
Kellerman Consulting helps companies write every level of food safety compliance and food safety certification program and we train our clients to pass their inspections and food safety audits.
Contact Kellerman Consulting for your free 30-minute consultation to discuss solutions to your food safety needs.