4 Reasons to Choose a Food Safety Consulting Company That Hires Full-Time Employees vs. Contractors
4 Reasons to Choose a Food Safety Consulting Company That Hires Full-Time Employees vs. Contractors
When searching for a food safety consultant, there can be significant differences between companies in how they are set-up and run. One of the most important differences is if the consulting company chooses to employ full-time consultants on staff, or if they elect to delegate the work to contract consultants on a case-by-case basis.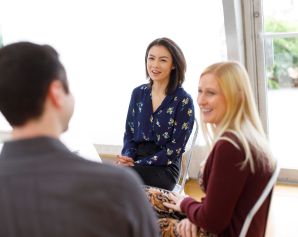 On one hand, there are consulting companies like Kellerman Consulting that only hire full-time employees who are trained and immersed in the company's reliable and repeatable process, that participate in collaborative, weekly team meetings, are held accountable to continuous improvement initiatives, and that are selected because of shared values such as responsiveness.
On the other hand, there are many other food safety consulting companies that only utilize part-time contractors that are left alone on an island to complete a project without the support and resources of a reliable team of experts, that aren't guaranteed to be using a repeatable process that works to ensure success, and are not held accountable to provide exceptional client service. We outline below a few of the main differences between using a consulting company with full-time employees versus selecting a company who outsources your project to part-time contractors.
1. Consistent Results
One of the most important benefits of working with a company who employs full-time food safety consultants, such as Kellerman Consulting, is that all consultants are well-versed in the company's repeatable and reliable process and have access to our staff of highly qualified food safety consultants. Our process has been fine-tuned over the course of successfully working with more than 600 clients. Each time we successfully complete a project, we examine our process and apply what we learned to future projects. Our collaborative culture gives you the benefit of our collective experience with hundreds of successful outcomes. You will achieve the same 100% success rate regardless of which of our team members works with you.
Working with part-time contractors can present major challenges to achieving consistent results because the contractor assigned to your project may not have the necessary experience with your type of project or the institutional knowledge in place to guide the project to a successful outcome.
2. Quality Control and Accountability
If you choose to work with a consulting company like Kellerman Consulting with only full-time employees, then you benefit from the support of consultants who review every project as a team. The co-founders of Kellerman Consulting are involved with each project at every stage to make sure that we are delivering on our commitment to our clients.
Many part-time contractors maintain salaried jobs for other companies or contract with many consulting companies and they might struggle to keep their full focus on your project. If there is not close oversight of part-time contractors, then they run the risk of blowing past deadlines, derailing your timeline or failing to provide the direction needed to successfully pass your audit.
3. Continuous Improvement
Kellerman Consulting supports our employees by having a strong focus on continuous improvement and ongoing training and professional development. Our entire team of full-time consultants are involved in weekly discussions regarding improvements to our process. You are getting the benefit of our collective knowledge and experience since we work closely together as a team. We invest in our team by paying for their ongoing professional development courses and certifications. Our team certifications include: Registered SQF Consultants, BRCGS, FSSC 22000, ISO 9001, Internal Auditing, PCQI for Human Food and Animal Food, FDA Food Defense, FSVP, HACCP, USDA HACCP, Seafood HACCP, Juice HACCP, Better Process Control School, Registered Sanitarian, ServSafe, and AFDO Process Authority.
Other food safety & quality management system consulting companies take on your project and then they find a part-time contractor to assign it to. This strategy does not guarantee that the consultant assigned to your project will have the necessary certifications or experience.
4. Responsiveness
Our full-time food safety and quality management system consultants respond immediately to all client questions, which is one of our core values. Kellerman Consulting team members are kept up to date on every project, and our full-time consultants follow our signature consistent process, so that any one of our consultants can quickly and easily step in at any moment to give you the reliability and responsiveness your project deserves.
We hear from clients that they have attempted to work with part-time contractors in the past who would not respond to phone calls, or emails in a timely manner. A timely response is key to keeping your project moving forward.
Save your time and money by selecting the right consulting company at the start of your project.
If you need customized food safety or quality management system support please contact us at: INFO@KELLERMANCONSULTING.COM or call (800) 535-1376 to schedule your free 30 minute consultation.